District 24 Laser Grand Prix sponsored by West Coast Sailing.
Notice of Series for 2019 is available here.
This series leverages existing regattas at yacht clubs in District 24. Please check each organizing authority's web site for NOR & SIs for events in the series. These websites can be found under Details under Events, and can also be found via the calendar at laser.org. Check there for up-to-date details.
The series was conceived and developed by Ralph Pombo and Ken Crawford.
Series Winners

Year
Standard
Radial
2006
Walt Spevak
2007
Walt Spevak
2008
David Lapier
2009
Mike Bishop
2010
Tracy Usher
Christy Usher
2011
Tracy Usher
Mark Halman
2012
Tracy Usher
Christy Usher
2013
Peter Shope
Will Cefali
2014
Emilio Castelli
Laird Henkel
2015
Emilio Castelli
Stephen Aguilar
2016
Emilio Castelli
Toshinari Takayanagi
2017
Marcel Sloane
Andrew John Holdsworth
2018
Lance Kim
Marcel Sloane
Toshinari Takayanagi
Qualifying
Please note the eligibility requirements, specified in the notice of series (found under the Rules header), include Laser class membership. It is interesting to see how many people are participating in the series, so class membership won't be required to appear in the standings. But to win prizes at the end of the season, you need to be a class member. Please join the class and support Laser sailing for Laser sailors. Please also note there is a minimum number of events required to qualify for the series
File Photo: 2013 Masters PCCs
Photo by lydiakluge.com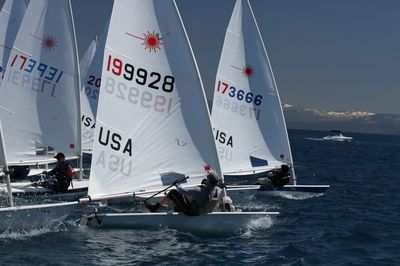 Class Contacts

---

2019 Standard Series
scores

---

2019 Radial Series
scores

---

2019 Standard Series Standings
detail

| | | | |
| --- | --- | --- | --- |
| Pos | Boat | Total Points | Sailed |
| 1 | Julian Soto | 160 | 12 |
| 2 | Lance Kim | 131 | 11 |
| 3 | Emilio Castelli | 102 | 10 |
| | Marcel Sloane | 80 | 7 |
| | Mike Bishop | 71 | 7 |
| | Chris Ganne | 55 | 7 |
| | Roger Herbst | 51 | 6 |
| | David LaPier | 49 | 5 |
| | Peter Phelan | 45 | 4 |
| | Tracy Usher | 44 | 5 |
| | Jayden Benedict | 43 | 4 |
| | Toshinari Takayanagi  | 43 | 3 |
| | Hendrik Reidel | 43 | 3 |
| | Chris Boome | 43 | 6 |
| | Dan Depew | 41 | 7 |
| | Simon Bell | 40 | 4 |
| | Niclas Bornling | 38 | 3 |
| | Steven Schmidt | 37 | 5 |
| | Caleb Yoslov | 30 | 2 |
| | Kurt Wessels | 30 | 4 |
| | Robbie O'Brien | 26 | 3 |
| | Chris Simenstad | 22 | 7 |
| | Stephen Aguilar | 22 | 5 |
| | JB Duler | 21 | 3 |
| | David Anthes | 21 | 2 |
| | Sergio Rizzo | 19 | 7 |
| | Nick Pullen | 18 | 1 |
| | Ryan Nelson | 17 | 1 |
| | Will Benedict | 16 | 1 |
| | sanjai kohli | 16 | 1 |
| | Ali Fuat Yuval | 15 | 1 |
| | Peter Strumph | 15 | 5 |
| | Charlie Buckingham | 14 | 1 |
| | Will Foox | 14 | 1 |
| | Zachary Hester | 14 | 1 |
| | Andrew Holdsworth | 13 | 1 |
| | Peter Vessella | 12 | 1 |
| | Paul Swan | 12 | 1 |
| | Rick Raduziner | 10 | 1 |
| | David Wyllie | 10 | 1 |
| | Andrew Bourke | 9 | 1 |
| | Jacob Fisker-Andersen | 9 | 1 |
| | Justin Foox | 9 | 2 |
| | Brian Bauman | 9 | 3 |
| | Spencer Thompson | 8 | 1 |
| | Rick Raduziner  | 8 | 1 |
| | Bergen Koijane | 8 | 2 |
| | Rick Landell | 7 | 1 |
| | Nikolas Burkhart | 7 | 3 |
| | David Wyllie  | 7 | 1 |
| | Blake Hoffman | 7 | 1 |
| | Bob Gunion | 7 | 1 |
| | Oliver Bush | 6 | 1 |
| | Jan-Ulco Kluiwstra | 6 | 2 |
| | Niko Twilla    | 6 | 1 |
| | Nigel Donnelly | 6 | 1 |
| | Don Radcliffe  | 6 | 1 |
| | Mike Holden | 6 | 2 |
| | John Robertson | 6 | 2 |
| | Jeff Holder | 5 | 3 |
| | Jacob Paoletti | 5 | 1 |
| | David Strubbe | 5 | 1 |
| | David Bourke | 5 | 1 |
| | Bruce Ryhal | 5 | 1 |
| | Jon Andron | 4 | 1 |
| | Austin Book | 4 | 1 |
| | Eben Russell | 3 | 1 |
| | Gary Moore | 3 | 1 |
| | Bruce Braly | 3 | 1 |
| | Oliver Fralick | 3 | 3 |
| | Garth Hobson | 2 | 1 |
| | Eichwald | 2 | 1 |
| | Parker Roach | 2 | 2 |
| | Rachel Hadley | 2 | 1 |
| | Mario Kalson | 2 | 2 |
| | Mark Tchelischeff | 2 | 1 |
| | Ben Tallarigo | 1 | 1 |
| | Sasha Lerner | 1 | 1 |
| | Steve Kraft | 1 | 1 |
| | Gino Baker  | 1 | 1 |
| | PHIL HYNDMAN | 1 | 1 |
| | Christopher Catt | 1 | 1 |
| | James Vernon | 1 | 1 |
| | Jack Holden | 1 | 1 |
| | Stephen Orosz | 1 | 1 |
| | Joost Reidel | 1 | 1 |

2019 Radial Series Standings
detail

| | | | |
| --- | --- | --- | --- |
| Pos | Boat | Total Points | Sailed |
| 1 | Toshinari Takayanagi | 85 | 9 |
| | Walt Spevak | 56 | 4 |
| | Elsa Simenstad | 40 | 5 |
| | Chris Boome | 36 | 3 |
| | Jon Andron | 32 | 3 |
| | Andrew Holdsworth | 30 | 2 |
| | Sarah Young | 30 | 2 |
| | Benjamin Stevens | 26 | 2 |
| | Chris Ganne | 22 | 2 |
| | Robbie O'Brien | 22 | 4 |
| | Lindsey Baab | 20 | 1 |
| | Kyle Schaefer | 19 | 3 |
| | Nicholas Sessions | 14 | 1 |
| | Sanjai Kohli | 14 | 1 |
| | David Wyllie | 14 | 3 |
| | JB Duler | 14 | 2 |
| | Michael Yang-Murray | 14 | 2 |
| | Bob Gunion | 14 | 3 |
| | Chris Hopkins | 13 | 2 |
| | Joseph Marlett | 13 | 3 |
| | Spencer Thompson | 13 | 1 |
| | Chase Englehart | 13 | 2 |
| | Will Foox | 13 | 1 |
| | Mario Kalson | 13 | 1 |
| | Packy Davis | 12 | 2 |
| | Stephen Aguilar | 12 | 5 |
| | Rick Landell    | 11 | 1 |
| | Laird Henkel | 11 | 4 |
| | Alex Horne | 11 | 1 |
| | Chase Englehart   | 10 | 1 |
| | Hideki Saito | 9 | 3 |
| | Nate Holden | 9 | 2 |
| | Jacob Bauman | 9 | 3 |
| | Cooper Schulze    | 9 | 1 |
| | Adam Spiegel | 9 | 1 |
| | Miya Casci    | 8 | 1 |
| | Mary Marlett | 8 | 1 |
| | Donald Radcliffe    | 7 | 1 |
| | Peter Marlett | 7 | 1 |
| | Jayden Benedict | 6 | 1 |
| | Josh Goldberg | 6 | 1 |
| | Kadin Harris    | 6 | 1 |
| | Ellie Glenn | 6 | 1 |
| | Cooper Butler-Brown | 5 | 1 |
| | izabela halifax    | 5 | 1 |
| | Mark Marlett  | 5 | 1 |
| | Raffi Baumann | 4 | 1 |
| | Tilden Stadtmiller  | 4 | 1 |
| | Will Cefali | 4 | 1 |
| | Murray | 3 | 1 |
| | Bob Smolenski | 3 | 1 |
| | Bruce Braly   | 3 | 1 |
| | Mike Eichwald  | 2 | 1 |
| | Sean Tolan | 1 | 1 |
| | Michael Yang Murray | 1 | 1 |
| | Dan Depew | 1 | 1 |
| | Rachel Glenn | 1 | 1 |
| | Annie Chan | 1 | 1 |
| | Rick Landell   | 1 | 1 |
| | Ian Mendius | 1 | 1 |